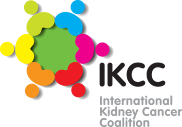 The International Kidney Cancer Coalition (IKCC) is an independent international network of over 40 patient organisations that focus exclusively, or include a specific focus, on kidney cancer. Based in the Netherlands, the organisation was born from a very strong desire among various national kidney cancer patient groups to network, cooperate and share materials, knowledge, and experiences around the world.
Kidney cancer is a global issue. Every year, an estimated 403,000 people worldwide will be diagnosed with kidney cancer.i Research and clinical trials in kidney cancer take place across continents and many kidney cancer experts sit on international panels.
By working together and collecting the experiences of many patients in different countries, we represent the perspectives, insights and experiences of kidney cancer patients around the world and empower the kidney cancer community through advocacy, awareness, information and research.